Soothe & Care Enzyme Charcoal Toothpaste
Product Detail
Feedback now




Bamboo charcoal small black tube series toothpaste: break the traditional black paste, add enzyme to the extracted activated carbon component, which can effectively whiten the teeth and protect the periodontal. Won the award of 2019 MEIYI for Best Oral Care in Personal Care.

Item
Enzyme Charcoal Toothpaste
Net weight
180g
Flavor
double mint
Ingredients
Sorbitol, hydrated silica, glycerin, aqua, mint extract, sodium lauryl sulphate, flavor, cellulose gum, charcoal powder, tetrasodium pyrophosphate, sodium saccharin, mica, methylparaben, dextranase.
Exp. Date
3 years
Executive standard
GB/T 8372 qualified
Cosmetics production license No.
XK-20160408.
Direction
Use Soothe&care Baking Soda toothpaste twice a day or follow the doctors' suggestion, benefit to our oral health
Place of origin
Guangdong
Packaging & Delivery

Carton:

48 p/ carton or 72 p / carton; 12p a pack


Supply Ability:

500000 pieces per day * 30 days


Port:

Zhongshan port / Xiaolan port
Toothpaste

Soothe & Care:

Baking Soda & Charcoal Toothpaste


Lid:

36mm white plastic flip-top pp lid


Pipe Diameter:

Φ36mm; sealed by aluminum film


Pipe Range:

182mm


Pipe Material:

ABL
Address
No. 2 Yihui Road, Maohui Industrial Zone, Henglan Town, Zhongshan, Guangdong, China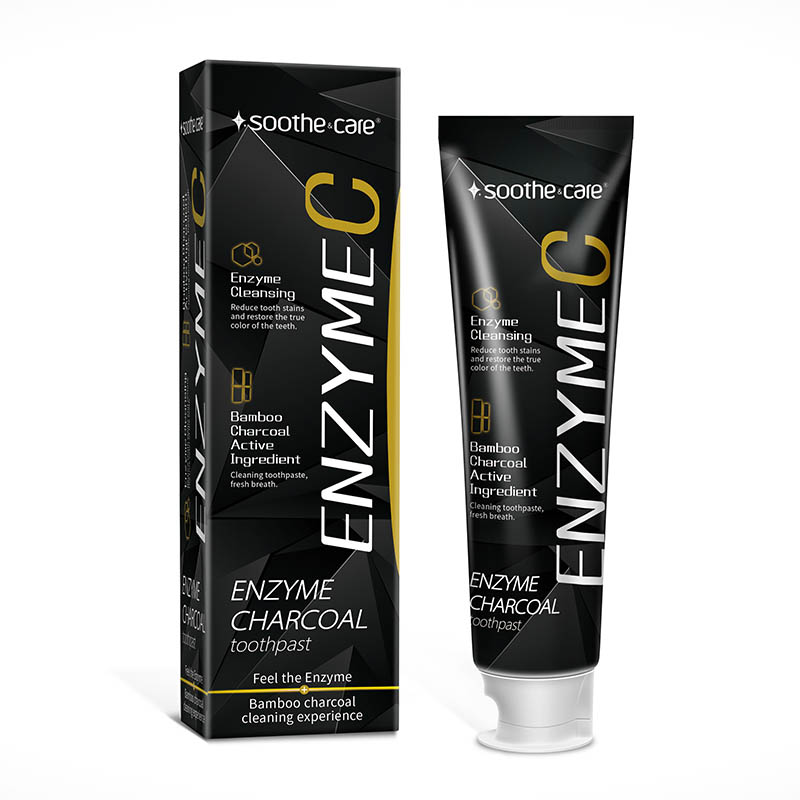 Add enzymes and bamboo charcoal to clean your teeth, and mint to refresh your breath.




1. Used to clean teeth and freshen breath.
2. Enzyme cleaning ability, reduce tooth stains and restore the natural color of teeth.
3. Bamboo charcoal active ingredients used to clean your teeth and refresh your breath.